The Creative Curriculum© Builds Confident Learners
A Lasting Love Of Learning Comes From An Empowering Curriculum
The Creative Curriculum© Builds Confident Learners
A Lasting Love Of Learning Comes From An Empowering Curriculum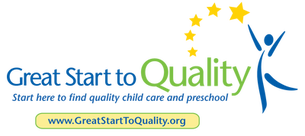 Proud To Be A Michigan 5-Star-Rated Great Start To Quality Program!
Your Child Benefits From...
Teacher Observations & Planning Influence Daily Interactions
Teachers observe and interact with their classes, taking notes of where interest occurs. Then, teachers build on that interest with lessons that expand your child's world. This fosters an early love of learning because the children have ownership over it.
The Creative Curriculum© Provides A Trusted Framework For Learning
The Creative Curriculum©'s framework has five components: how children develop and learn, the learning environment, what children learn, caring and teaching, and partnering with families.
The Creative Curriculum© Is Centered On 5 Fundamental Principles, Including:
Subject Areas Prepare With Exceptional School Skills
Children learn in all areas: literacy, mathematics, science, social studies, the arts, and technology. Each content area breaks down into specifics, including objectives and strategies for teachers to accommodate children's learning.
Nature Is Integral To Everyday Learning
The natural world provides open-ended explorations and activities throughout the day. Children learn through direct experimentation, using a variety of tools from the classroom and home to practice cause and effect, matching, sorting, classification, and more. 
Yearly Assessments Measure Progress & Development
Assessments determine what children know and can do, and their strengths, needs, and interests. Assessments also monitor for development and areas that may require additional support. The assessment tool uses a 4-step process: