Watch Your Child Develop  A Lasting Love Of Learning
Watch Your Child Develop  A Lasting Love Of Learning
A Basis Of Teacher Observation, Planning, And Daily Interaction
Teachers observe and interact, and topics of study are developed from the classrooms' conversations and interests. When the children show interest in a specific area, the teachers note those interests, research, and gather materials to expand learning further.
A Trusted Framework For Learning
The Creative Curriculum©'s framework has five components: how children develop and learn, the learning environment, what children learn, caring and teaching, and partnering with families.
The Creative Curriculum© is centered on 5 fundamental principles, including:
Subject Areas That Prepare With Exceptional School Skills
Children learn in literacy, mathematics, science, social studies, the arts, and technology. Each content area breaks down into specifics, including objectives and strategies for teachers to accommodate children's learning.
Nature Is Integral To The Learning Approach
Natural items in the physical environment are used, giving open-ended activities throughout the day, and children learning through direct exploration and experience. Incorporating things children typically see in their homes into the classroom environment allows children to manipulate these materials and equipment in ways that help them learn.
How Do Assessments Measure Progress?
A 4 step process determines your child's strengths, needs, and interests by: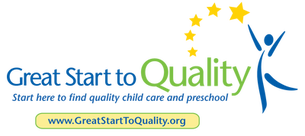 We've Been Awarded 5 Stars From Michigan's Great Start to Quality Program!
Your Child Benefits From...